Evidence continues to mount on the importance of gut health in maintaining a healthy brain.
This link has become known as the "gut-brain axis."
Now an Australian university study has demonstrated that the regular consumption of probiotics can have advantageous effects on mental health.
The positive effect occurs by "lessening the psychological symptoms of perceived stress, depression and anxiety" according to the results of the study, which were published in The Journal of Alternative and Complementary Medicine.
The study reviewed the results of seven previous studies which tested symptoms in over 300 healthy volunteers both before and after supplementation with a probiotic.
Researchers from Griffith University in Queensland, Australia, stated:
"Interest in the gut-brain axis and emerging evidence that the intestinal microbiota can influence central nervous system function has led to the hypothesis that probiotics supplementation can have a positive effect on mood and psychological symptoms such as depression and anxiety.
The researchers went on to note that although several human clinical trials had investigated the gut-brain connection, results had been inconsistent.
Therefore, they proposed "a systematic review and meta-analytic approach" to examine if probiotic consumption did indeed have an effect on psychological symptoms.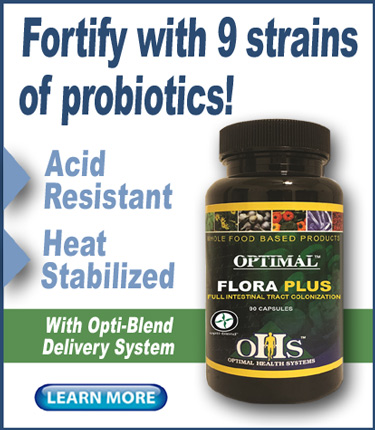 In summary, the researchers concluded that probiotics do, in fact, provide a consistent positive reinforcement for the brain—via the gut:
"These results show that probiotic consumption may have a positive effect on psychological symptoms of depression, anxiety, and perceived stress in healthy human volunteers."
When considering a probiotic supplement, be sure to choose a quality product with multiple strains.
Optimal Flora Plus from Optimal Health Systems is packed with nine strains of probiotics. These beneficial bacteria are also stabilized and heat resistant to ensure proper transition and absorption.
– – –
Source: The Journal of Alternative and Complementary Medicine, NutraIngredients-usa.com.