According to a new survey, 80% of pharmacists in the U.S. take vitamin/mineral supplements to support their overall health.
It typically takes six years of higher education to obtain the credentials needed for dispensing prescription drugs, and for this reason pharmacists are often seen as trusted advisors in health matters. This includes advice on taking nutritional supplements.
And it turns out the vast majority of them follow the same advice they dispense to others: take your supplements.
Pharmacists include supplements in their own health regimens

The survey was conducted online during April 2021. A focus of the survey was to determine if pharmacists have compromised their own health and well-being during the COVID pandemic.
It was assumed most pharmacists were working longer hours, and suffering more stress, in order to meet the increased demand for their services over the course of the pandemic.
According to the survey, 62% of pharmacists reported these new work commitments were indeed an impediment to self-care.
Additionally, 30% reported that due to this increased demand, they are now taking worse care of themselves compared to before the COVID-19 pandemic began.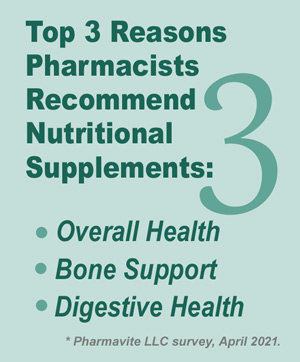 The good news was discovered with the survey question related to supplementing: Eight out of 10 pharmacists reported that daily vitamin supplementation was still an important part of their own health routine, and did not fall to the wayside due to pandemic stress.
A likely reason for the consistency is that, compared to other health steps like exercising and eating well, taking supplements is relatively easy step.
Additionally, 75% of pharmacists reported there has been a surge in patients requesting information about vitamins and other supplements since the beginning of the pandemic.
Because of this, 72% of pharmacists stated they regularly recommend a daily vitamin routine to patients as a best practice for well-being.
Pharmacist recommendations could help battle nutrient deficiencies
The top three reasons for recommending nutritional supplements were for overall health maintenance, bone health and digestive support.
The survey included a nationally represented sample of 275 licensed American pharmacists in either retail or hospital environments. The survey was conducted by the supplement company Pharmavite, a subsidiary of the Japan-based Otsuka Pharmaceutical Co., Ltd.
Since pharmacy education in the West is pharmaceutical driven—as opposed to Eastern systems such as Ayurveda and Traditional Chinese Medicine—most consumers would be shocked to learn how little training is provided to pharmacists regarding nutritional supplements.